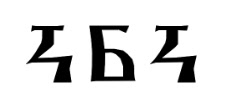 Do you know what we have written in the Glagolitic alphabet? :)
If you take your trip to the island of Krk, make sure you come to Baska, and besides enjoying the beautiful sandy beach, if you want to know a bit more about the cultural and historical heritage, go on a new Glagolitic path.
Baška is a small place that is proud of its historical roots. Interesting is the synergy of nature, customs, history and great traditions.
How proud Bašćani (residents of Baska) are of their history can be seen through the excellent idea that has been transformed into the now recognizable Baška Glagolitic path. If you go on the curved stone streets, except for the beautiful nature, you will discover a story about Glagolitic letters. You will be accompanied by 34 huge stone sculptures with engraved glagolitic letters. Throughout Baška you will be guided by the guide you need to listen carefully and absorb every letter of history.
How well do you know the glagolitic history?
In the middle of the 9th century, with the stylization of the Greek curses, a Slavic script - glagolitic was born. One of the possible authors most talked about in the literature, related to the history of the most famous Bašćanska ploča is St. Cyril . He used this letter to translate church books into Old Slavic language. Angular and rounded, two forms of the Glagolitic alphabet. It occurs in Croatia in the early 12th century, mostly in the coastal regions (Kvarner Islands, Croatian Primorje, Dalmatia).
After enjoying the Baska Glagolitic Route, it is time to look at and possibly the most important cultural monument of the Croatian people. The Baška tablet,or its replica, is located in the church of St. Lucija, in a small place near Baska - Jurandvor. The first ancient Croatian monument written in Glagolitic style, somewhere around year 1100. When you've learned some glagolitic letter, you might also be able to read one of the 13 rows sculpted on the board ...
We believe that reading will not be easy, and what is perhaps the most important thing and what is going through all the historical books is the core of the monument:
Documented on the monument was the donation to the local Benedictine monastery by King Dmitry Zvonimir.
Once you are comfortably accommodated in one of our beautiful holiday homes, start your historical and cultural journey and be richer for another very important piece of Croatian history.
And yes, did you find out what we wrote at the beginning of the text on the Glagolitic? :)