The island of Krk has a rich gastronomy and a lot of recognizable dishes, but one still stands out.
Surlice, a specialty of the dough with eggs that are formed in the rollers, a favorite meal on the island and without them there are not any festive dinner or any kind of celebration.
The dough is formed on the knitting needle or toothpick, or sticks for foods can be used. The goal is that the dough has hollow in the center in order to better catch the sauce. Thanks to this hollow Krk pasta also got its name -
surlica
is small surla - elephant trunk (nose).
They are an excellent example of the ingenuity and skills of the hands of Krk housewives that prepared this pasta long ago from selected sorts of wheat.
From this simple recipe a specialty was created that is perfectly complemented with a range of local ingredients.
This is one of the reasons why this is a favorite food of inhabitants of the island, but also the many visitors.
Most often paired with lamb, beef or veal žgvacet (stew - goulash) with obligatory addition of local sheep cheese, grated, which gives the dishes a special good taste. If surlice are not served with the meat, will go well with shrimp and olives, with squid, octopus and mussels, with salsa or bolognese sauce, but also with some homemade prosciutto that is specialty of the island.
Many of the island's restaurants and taverns, in addition to the traditional ways, serve surlice with the most varied sauces. They are especially trying to demonstrate their innovativeness during "Sulice days" in July in town Vrbnik.
The aim of this Krk gastronomic event is
to highlight the value and quality of autochthonous island cuisine, and to offer to the visitors of the island a true gastro-oenological experience.
With surlice visitors can also enjoy other traditional Krk delicacies like many fish dishes, prosciutto and cheese, olive oil and the island's famous wines, of which
the most famous is indigenous fragrant vrbnicka zlahtina
. This dry white wine has a special place in the life of Krk residents who verify their love and respect for traditional dishes through a number of specialties that delight every visitor and are
an excellent reason to visit Krk soon
and enjoy surlice.
Although almost every place on the island has its own recipe and method of preparation,
we bring you a proven recipe of favorite island dish
. We suggest that you try to make this heavenly food yourself, and then quickly visit the island of Krk and check how much yours are similar to the autochthonous! How to make authentic surlice?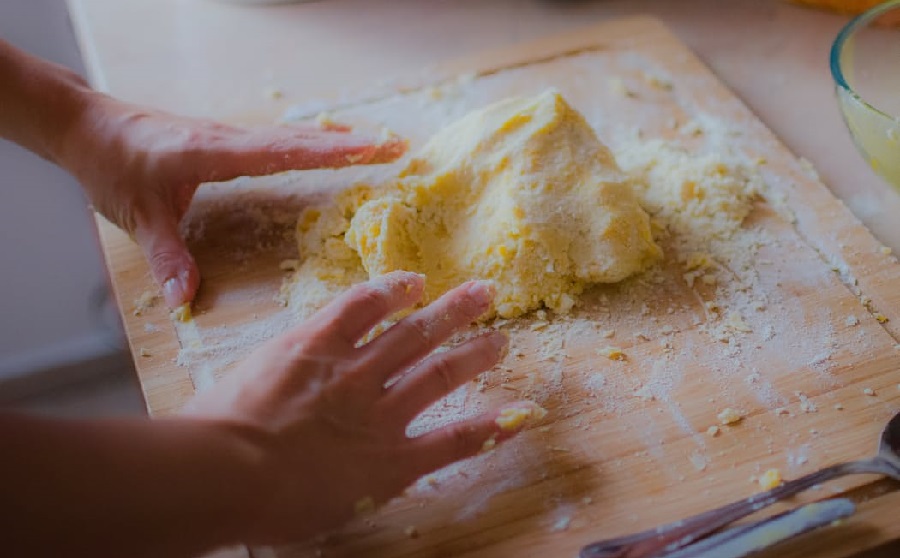 How to make authentic surlice?
(The amount of pasta is enough for a dozen people, so we believe you will improve your making of pasta while wrapping all the dough.)
● 1 kg of rough flour
● 500 ml of water
● 1 whole egg
● 1 egg yolk
● 10 g of salt
● 1 tablespoon of olive oil
Preparation
● Mix flour, warm water, eggs, egg yolks, salt and olive oil and knead a firm dough and let it rest for 1-2 hours.
● On floured surface shape the dough pieces into the rollers, and then cut them into small pieces.
● Flatten each piece on the palm of your hand, and then wrap them one by one around floured sticks and roll on the wooden board or between the hands to shape into a hollow rolls.
● Put shaped dough on a floured surface and leave it for several hours. You can speed up the process a bit if you put surlice briefly into a freezer.
● Thus prepared surlice cook in a large quantity of water, which you will season with salt at the end of cooking of pasta, for which it is desirable to be al dente.
Strain the cooked surlice and serve them hot.